Buchanan shines light on Christmas Eve with luminary display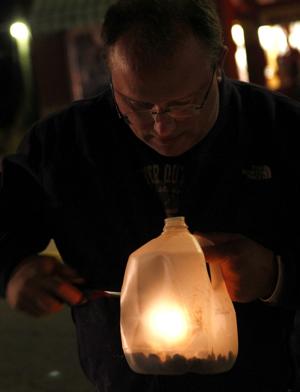 A luminary made out of a milk jug is lit for the town of Buchanan's annual Christmas Eve Luminary display in 2011.
buchanan luminaries 2011 122216 ex p02
Vehicles drive down Main Street in Buchanan past the town's annual Christmas Eve luminary display in 2011.
Twilight In Buchanan Christmas Eve Luminaries

Celebrate the town's history as streets are lined on Christmas Eve with hundreds of luminaries to herald the arrival of Christmas.

When: 6 p.m. Saturday

Where: Main Street, downtown Buchanan

Cost: Free

More information: 254-1212; townofbuchanan.com
After traveling through the dark, finally seeing the light creates a beacon of hope, and few towns know this better than Buchanan. With its Christmas Eve luminaries lining the sidewalks of Main Street each year, the small hamlet remembers a darker time.
The flood of 1985 was nasty and unforgiving for the Roanoke Valley, taking the lives of 10 people in the area. Buchanan, with its proximity to the James River, couldn't foil the grasp of the torrent, which reached as high as 9 feet, damaging businesses and homes and making the town's water undrinkable.
To survive the aftermath, townspeople drank potable water out of jugs brought in from out of town. The containers would become a symbol of hope a year later, when the candle luminaries project was created. Volunteers would walk down Main Street setting down jugs that had been cut — with a candle placed inside to light the way — on Christmas Eve.
In 1995, the project was streamlined from an eight-hour effort to taking only about two to three hours when the Town Revitalization Program partnered with Buchanan Elementary School teachers to organize volunteers and acquire jugs. Today, volunteers from around the town continue to unite for the effort.
"Generally, there are announcements we put in the local paper and on Facebook," said Harry Gleason, town manager of Buchanan. "But really it's a tradition, so people just know about it and volunteer that way."
The volunteers will have their work cut out for them: An estimated 300 to 500 jugs are set out each year. The jugs, which are collected starting in August, are gathered by area residents and students of the elementary school.
Visitors can view the luminaries by car or on foot down Main Street starting at 6 p.m. Saturday. For more information about the luminaries project, visit www.townofbuchanan.com.